Dental Patient Reviews – Greensboro NC
Please read below for patient reviews about their experiences at Michelle H. Mottinger, DDS, PA . If you would like to leave a review, please leave one via Google Places or send us an email .
To read some thoughts from others about their life's work, including a quote from Dr. Mottinger, please read a news article further below.
---
– Jim –

Michelle,

Wanted to compliment you on your technique yesterday. You have given painless shots the last two visits, and I was impressed how quick and smooth yesterday's repair was. I grew up with military dentists and had very unpleasant childhood experiences with my teeth.

I brought my children to you after I witnessed Mary have a very unnecessarily painful visit to a pediatric dentist. Both my girl's experience with your practice has been very positive and Mary is no longer afraid to go to the dentist. This positive experience (and therefore attitude) you have given them will promote good dental care when they are adults.

Thank you for the good work you do.
---
– Claire –

Dear Dr. Michelle Mottinger,

I have thought many times since you replaced my crown without charge, what that represents. I, and Larry, have found you and your office to be fine providers of dental care, as would be assumed since we remain patients. Your sense that the crown you put in should not have done that and thus your belief that you would redo it and not charge for that service represents a pride in your work that I very much appreciate.

I think of it every time I floss my teeth, and I gratefully report that the crown has reduced hugely the amount of food that lodges between the involved teeth, and as a result, that part of my mouth is not sore as it was almost all the time before you did it.

Thank you for the work itself, and for being the person whose pride in her work and her integrity led to this. I plan to remain your patient as long as I have teeth, and with your care, that could be several more years!

Thanks
Claire
---
– Carol –

Dear Michelle,

What a relief to start the new year with my 3 dental implants! They feel totally natural. Thanks so everything. I'm smiling and it feels good!

Love
Carol
---
News Article
Originally published by the NEWS & RECORD online , August 29, 2012.
"Work It's More Than a Job for Those Who Love Theirs"
Author: Mike Kernels; Greensboro News & Record (NC) This one goes out to the working stiff. C'mon, stand up. Take a bow. Don't be shy. And that, friend, should be the extent of all that's required of you today. This is, after all, Labor Day. Your day.
Hey, you don't need to tell us. You're overworked and underpaid. We wouldn't blame you for feeling disillusioned or disgruntled. Some of you are probably just happy to be working. But despite everything, do you still love your job? That's what we've been asking readers the past couple of weeks. Their answer – in case you didn't get the memo – was a resounding yes. And what's not to like about work? Free food. Cubicles. Staff meetings. Performance reviews. We did mention the free food, right?
Still, for many readers, all that is a bonus – including the paycheck. They're just happy doing something they love. As High Point's Bette Ferree, a longtime nurse, put it: "It is a job, but it's not. I enjoy being able to help other people. This is who I am."
Whatever it is you do, you have to master your craft. – Snoop Dogg We salute you, Jim Greenway, for coming to The Home Depot with a smile – a must for a greeter."I feel good when I go in and when I leave," says Greenway, 80, who's been at the store 16 years. "It's just fun working. It keeps me alive."
We admire you Tom Murray Jr. for showing up. Even Mondays. Especially on Mondays. "I can honestly say I look forward to Mondays," says Murray, a psychotherapist for North Carolina School of the Arts. "When I see someone transformed from suffering to empowered … that is a real gift to behold."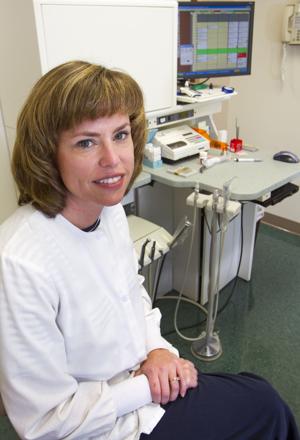 Thank you, Michelle Mottinger for giving it your all as a dentist.
"I made the right choice," says Mottinger, 45, who practices in Greensboro. "The first thing you see on somebody is their smile. It makes me sleep better when I can make it right."
Pleasure in the job puts perfection in the work. – Aristotle
The following is stuff HR will never tell you:
Men waste more time at work than women, according to a February study.
According to the U.S. Department of Labor, only 19 states require companies to give lunch breaks to workers. (North Carolina isn't one of them. Sorry.)
No state requires companies to have a Goodie Day.
Average number of employee trips to the vending machine: four. We got that from "The Office" – the British version.
Average time spent tilting machine: Until caught. We know from experience.
It's just a job. – Muhammad Ali
The latest data from the Bureau of Labor Statistics is disheartening: Nationwide, the number of unemployed is 13 million. Jobless rates are up in 44 states.
A recent Gallup poll has people expecting to retire at 67.And there's a 68-year-old Greensboro woman who's just happy to still be part of the workforce. Introducing Toni Stewart, who is as much a staple at Bessemer Curb Market as bottled Nehi. "You can go in feeling bad," she says, "and someone will say something to brighten your day."
It's been that way for 33 years. Customers used to know her as a cashier. Now, she's their butcher. "Most of them I know by face, not name," Stewart says. "They tell me their problems – both good and bad. We swap recipes.
"It's not like a job." Mondays are not part of the productive work week. – Dogbert The working class: History fit for a Post-it
1938: The first electric water cooler was invented. That same year, workers could be seen huddled around it discussing "War of the Worlds." Later, it would be episodes of "Lost" and "Cake Boss."
1968: Cubicles are invented to provide privacy but offer none.
Circa 1980s: First documented smell of burnt microwaved popcorn in an office.
Circa 1990s: First recorded sighting of a March Madness bracket.
Unknown date: An employee is reprimanded for updating his Fantasy Football roster.
The reward of a thing well done is to have done it. – Ralph Waldo Emerson We leave you with the story of Donna Austin. She's a Guilford County school bus driver for special-needs kids. But she's not just a driver. You can tell that right away. The passion in her voice, for one. The way she describes her job, for another. She talks about being a friend and mentor to her kids. The importance of making them feel good when she picks them up. How easy it is to "get attached." A word she rarely mentions: driving. Some people seem wired for certain things in life. For Austin, it's getting these children to school. "You're the first person they see in the morning," she says. "Getting them in a good mood can set the pace for the entire day." Austin has always loved the freedom of the road. She also has a child with autism. As a career, this felt right.
"When I first started driving, I was scared to death," admits Austin, 53, on a recent day before school got out. "It's like second nature now. The bus is the easy part."
The kids are a different story. Over the years, they have had a range of disabilities. Some can't see, hear or speak. Some have behavior issues. Some are susceptible to meltdowns and fear. Some can hurt themselves – or worse. "We have," Austin says, "a lot on our plate." As with most jobs, some days are harder than others. Then, there are days that touch your heart. "I have kids on my bus who can barely move and struggle to hold their heads up, but they still are happy," Austin says. "They are my heroes." Like we said. Not just a driver.