The brief descriptions below are designed to familiarize you with our staff's training, professional credentials, and work experience.
Michelle H. Mottinger, DDS
Dentist in North Greensboro, NC
Michelle H. Mottinger, DDS
Dr. Mottinger graduated from the UNC School of Dentistry in Chapel Hill with a D.D.S. degree, and from UNC-Chapel Hill with a B.S. degree in Dental Hygiene.
In 1994, Dr. Mottinger joined Dr. Laurence S. Alspaugh in Greensboro, North Carolina; he served as a wonderful mentor and was a dear friend until he passed away in January 2007. Dr. Mottinger acquired Dr. Alspaugh's practice in 1995 and continues the rich tradition today along with several of the same staff and numerous former patients.
Dr. Mottinger is an active member of the American Dental Association , Academy of General Dentistry , North Carolina Dental Society , Guilford County Dental Society, and is involved in many continuing education courses.
She is married to Ted Mottinger and has two adult sons, Zachary and Matthew. Her interests outside of dentistry include her Australian Shepherds Bailey and Keishki, church, skiing, and spectator sports. She also loves to travel and enjoys hearing about her patient's exciting trips.
Dr. Mottinger
Update during the Coronavirus Isolation :
Let me preface by saying, I am not a writer but I needed to put this down…
I'm a scientist, a solver of problems and if I can't, I research it and call on my colleagues.
I'm a planner, no a superplanner. When things don't go according to plans, well, let's just say, watch out!
I'm orderly and organized and this virus has upended my neat and tidy world. The world has come to a sudden stop.
And what I miss the most?
The Relationships.
My family, my friends, my church, my coworkers, my patients.
I'm able to be in touch remotely with my family, friends, and even my church. But there's a big void without my work.
My patients have helped me far more than what I've done for them.
I've seen frightened people pour out their souls, sharing so much of themselves.
I've watched people work through mental illness, panic, anxiety, depression, hoarding, OCD.
I've witnessed them suffer the loss of health, cancer, MS, Parkinson's, strokes, dementia, and the slow decline of independence that comes with aging. I've supported spouses as they mourn the loss of their partner.
I've had the joy of treating families and their children growing up parallel to mine, going to college, jobs, and on with their lives. And later, the excitement of having grandchildren to show off. With pictures and stories.
I miss my relationship with colleagues as we work at being our best together and serve as resources for each other.
I have a very special relationship with my coworkers. So much of our day is spent together. The walls start coming down and your true self emerges as you rally together in service. We are often told how much patients enjoy the laughter they hear coming down the hall, as it calms them.
So, I offer my sincere thanks for allowing me to be a small part of your lives. Thank you for the kind letters after treatment…the candy, doughnuts, and flowers just because…advice about life, kids, recipes…but most of all for sharing yourselves with me. I can hardly wait to see you again.
Michelle
---
Carol Roberts - Dental Hygienist
Carol Roberts has been practicing Dental Hygiene with Dr. Mottinger since her start in 1994. Prior to 1994, she worked with Dr. Lawrence Alspaugh. Her enthusiasm and sense of humor enables our patients to feel comfortable and at ease. She enjoys spending time with her adult children and her grandchildren.
---
Rachel Ellis - Dental Hygienist
Rachel Ellis has been with Dr. Mottinger since 1994 and was a Dental Hygienist with Dr. Lawrence Alspaugh before his retirement. She is passionate about helping patients take the best possible care of their teeth. She takes extra time demonstrating and offering beneficial suggestions on how to maintain them at their best. She enjoys spending time with her family and helping many of her elderly friends.
---
Jessica Partin - Dental Assistant
Jessica Partin joined our office as a Certified Dental Assistant in December 2015. She is originally from Lewisville, NC. Jessica enjoys interacting with our patients, putting them at ease. She brings a lot of enthusiasm to work each day and keeps the clinical area well organized. She is married to Derek and has a special cat named Olivia.
---
Janet Foushee - Office Manager and Billing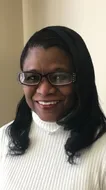 Janet became part of our talented team in February 2017. She brings an extensive background in insurance and helps our patients navigate the challenges these companies present. Janet helped reorganize the business office in streamlining our efficiency. She has 5 grandchildren and calls Greensboro home.
---
In Memory: We recently lost one of our longtime assistants, Linda Vanderfleet. She was a dedicated member of our team and will be greatly missed.
Linda Vanderfleet - Dental Assistant
Linda Vanderfleet is a Dental Assistant and has worked with Dr. Mottinger since 1994. She has the phenomenal ability to remember many details about patients that enables us to know them on a deeper level. Her calm demeanor is an important aspect of keeping them at ease during necessary dental procedures. She is married to Peter Vanderfleet and has an adult son, Adam.